An online wishlist website to help you get organised.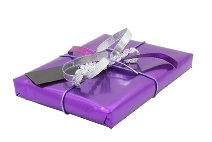 Do you ever get asked "What do you want for your birthday? Give us some ideas please!"
Show your friends & family your wishlist, so they don't need to guess. Ask them to create a wishlist too, so you know what to buy for them.
At MyEList, we simplify the process of creating a wishlist. It can be used for any occasion. A birthday wishlist, a christmas wishlist, a wedding wishlist....the possibilities are endless.
You can add to your wishlist anything from any site, so it no longer matters if things on your wishlist are not found in one place.